2015 Favorites: Scream Queens (+ Theories)
Scream Queens definitely is one of my favorites of 2015. I was super stoked for this show even after hearing about it late last year because 1) I love Slasher Flicks so a slasher TV show would be amazing, 2) I knew it was gonna have a different take on the slasher genre, and 3) THE CAST. Like, seriously most of my favorite actors are there: Emma Roberts, Lea Michele, Abigail Breslin, there's also Ariana Grande, Niecy Nash, Nasim Pedrad, Nick Jonas, Diego Boneta, Oliver Hudson, and of course, Billie Lourd! Plus, the Queen of Screams, Jamie Lee Curtis, too! It was so obvious that I was going to tune in.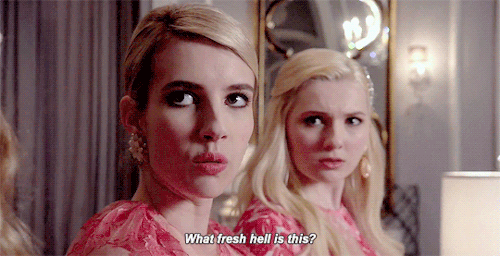 And tune in I did—and seriously, it's one of the best things I've done this year because each week, I just look forward to watching Scream Queens and trying to guess who the Red Devil is. It's super packed with wit and humor and murders (lol), and it's over the top but really entertaining. One of the best things about this show is the dialogue. The Chanels really have the best lines! Glen Powell as Chad also delivers so well. And oh, Niecy Nash as Denise Hemphill is amazing. Her comic timing is just perfect and she really delivers!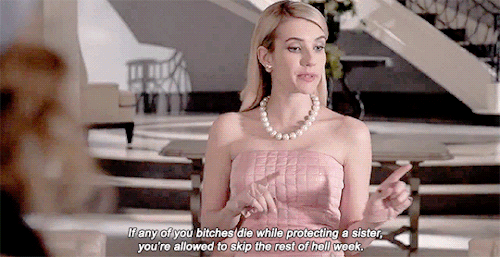 Plus, there's the on-point wardrobe. Like, I really just want to raid the Chanels' closets. Ugh. (but let's not get started on Gigi's wardrobe okaaaay)
Oh, and one of my other favorite things—err, people—is Chanel #3. She's sooooo charming. Billie fits the role so well, you cannot almost separate her from Chanel #3. I really like how indifferent she could be, and she's so beautiful, and has some of the best lines. Plus, she actually has some heart. I mean, remember when Chanel #2 died and Chanel wanted to keep the body in the freezer, Chanel #3 was like, "She's our friend." She also calls KKT House "Home", and was even worried that her "sort of friends are being murdered". You just gotta love her.
---
THEORIES
Another reason why I'm writing this is to theorize about who the remaining Red Devil is. Finale's just 2 weeks away and everything is super confusing but I do have some guesses.
Let's start with…Chanel #5. She has been my suspect since the beginning. I mean, she's like the "medium" suspect, one who might be the killer—or might not be the killer. But according to Keke Palmer's interview, Ryan Murphy said that the killer is so obvious, and that there's a clue in episode 1. I rewatched episode 1 last night and…
Remember one of those 1995 Kappas? The one in the blue dress who didn't want to miss Waterfalls because it's her jam?  She literally looks like Chanel #5. Even the way she speaks is very reminiscent of Chanel #5. Especially when she's mad!  Which means…she could possibly be her mother—or sister?
See?
Chanel #5 always says that she's a legacy, but we never really get to meet her family—even on Thanksgiving. Buuuut, I found THIS LINK about the final 2 episodes of Scream Queens and it shows that Chanel #5's parents are cast. Why would they be cast in the last episode? Unless—we finally get to figure out who Chanel #5 really is. Or she ends up dead (which I hope, isn't the case)
See, final episode will be a 2-hour special entitled Dorkus/Final Girls. Dorkus is Melanie (former tan-sprayed Chanel's surname), so probably we're going to know what really happened to her. But I'd be so disappointed if Melanie turns out to be Red Devil ugh.
Another thing is that she arrived during Thanksgiving with some meat and we didn't even really see if she came from somewhere.
Anyway…Chanel #5's like, the Gretchen Weiners of the group. She's always put aside by Chanel, always mocked—that could really twist someone's mind. Most importantly, whenever she's almost killed, she doesn't get killed. Another thing about the casting for the finale (including Black Friday) is that Roger and Dodger are also cast—uh-huh, another Chanel #5 connection.
Oh, and FINAL GIRLS. That's the title of a slasher movie where someone had to sacrifice her life to save the "final girls". However, when you take the last "S", the title becomes FINAL GIRL, another thriller which actually stars Abigal Breslin (aka Chanel #5!). Here, Abigail's character had a mission—and she has another guy as her partner. Coincidence? I don't think so….
But then again, there's also Chanel #3. We never really know what her real first name is, and is she really Manson's daughter? Also, one time, she tells Sam not to ask too many questions about her. And, in episode 2 (Hell Week), she told the girls she has a sister—but obviously, she didn't have a sister during Thanksgiving. Also, there's a theory that the earmuffs are there as a hearing device. hmmm
Or, what about Pete? It's kind of obvious-not obvious. He has a Red Devil costume, but are we really sure he's the mascot or did he just tell Grace that? He has a dark past. He's obsessed with "investigating". There are episodes when he's not around. Plus, are we really sure he didn't fake the paternity test? Hmmmm
And then there's Grace. She also could be an obvious suspect, but I think it's too obvious to happen. Then again, it's also suspicious how she tells Wes that they should not be suspected. Isn't that what all suspects say? Hmmm
Or Hester. She is so obsessed with death and crimes and she talked about Ms. Bean's carver, and she talks about flesh. I mean, come on. Oh, and she came back to life!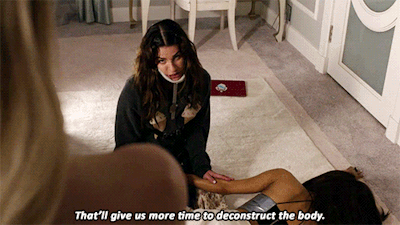 Finally, Dean Munsch. Remember when she sleeps with Chad and she says "I've done worse". What could she have done worse? Plus, she covered up the 1995 incident. And she hates sororities! Then again, it might be too obvious.
Well, maybe I could be wrong but right now…my money's on Chanel #5.
Do you watch Scream Queens, too? What are theories?